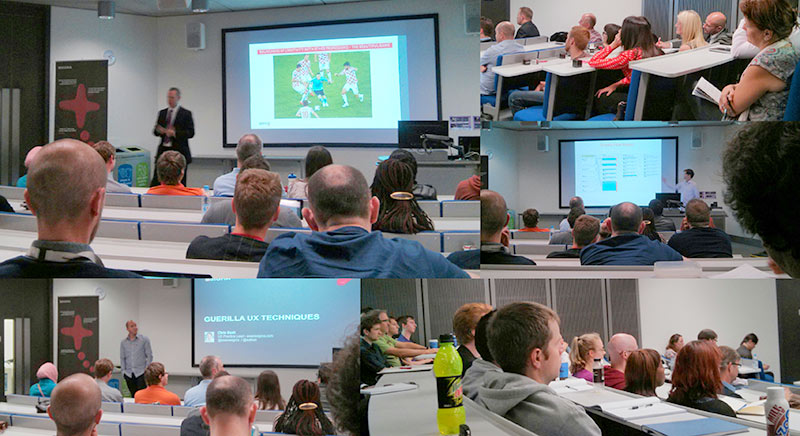 Quick!
This is my very brief review of the Camp Digital: Bite size hosted by Sigma — this review is only focused in stuff I found interesting, so here we go!
First talk
First one was Chris Bush @suthen about Guerrilla testing (BTW, am I the only one that hear gorilla instead of guerrilla?).
Classic intro about UX, differences between lab testing and guerrilla, advantages and disadvantages as usual.
New stuff for me:
Use a scribe to help you manage the testing, and
if you are testing responsive design in mobile, there is a very nice app called UX recorder that is like silverback but for mobile and tablets :-D
Second talk
Very interesting and entertaining, presented by Simon Wharton from PushOn, about how we can improve the overall user experience of the site with Google Analytics.
The cool things:
UX design tries to solve problems in a top down approach, while analytics can solve them in a bottom up.
Ask Google Analytics how can you improve the site speed of your site using the content -> site speed tab, as that can be a major improvement to the final user.
Did you know that you can very easily copy and paste different dashboards to your google analytics account? He recommended adding the facts about visitors dashboard from dashboardjunkie website.
Last, but not least, you can use Google Analytics to do all the dirty job when using A/B testing — comparing, deciding which one is stadistically better and even adding JS to serve different pages to the end user!
Third talk
Last one was Ian Richards, from Serco Global, talking about creativity in a business scenario, and how BAs and UXs should apply creativity in different ways.
This talk was more inspirational than practical, but included some very nice quotes like:
We need to find the balance between creativity, uniformity and standarisation.
A complete pity I couldn't take more notes :-(
—
That was all. Thanks Sigma for the event, and see you in the next Camp Digital!